Zen gardens are beautiful gardens that can bring peace to your mind. It could be a garden in your backyard or a garden image on your desktop, but it aims to bring "Zen" which means peace in your life. It's not easy now to have a real Zen garden for yourself, not everyone can afford it. That's why people look for mini Zen gardens that can be placed on your desk or tabletop and can bring peace to you just like the real Zen gardens.
It's difficult for us to stay away from stress and anxiety these days, whether when we are at work or home. Desk Zen gardens can help you to ease your stress. It can be placed on your working desk at home, in your bedroom, or any place in your house that can bring peace to you. You can also place it in your office. It will help you relax and clear your mind, and also increase your focus and self-control during your stressful work or meetings.
What is the background of a Zen garden?
Zen garden was originally founded in Kyoto, Japan, in the 14th century of Zen Buddhism. The garden was initially made to replicate nature to help monks in their meditations. From here, the Zen garden was developed widely and there was an extended version of it, and it began to widely spread around the world.
Why are they relaxing and peaceful?
Zen garden is relaxing and so peaceful because they combine natural elements all together in the garden: water, rocks, sand, and plants in a such way that it provides tranquility that makes people who view the garden feel calm and peaceful.
What do the best Zen gardens represent?
Theyrepresent our nature. People who see the actual garden or a desk Zen garden will find it beautiful, calming, and peaceful. It has a similar effect as if you were swimming in the ocean or hiking up beautiful mountains and you feel connected to nature. They were originally developed to help monks in their meditations so they can feel connected with nature. 
How do Zen gardens work?
Commonly they have white or blue sand to symbolize water. There are patterns made in the sand to represent the wave when a stone or other object hits the water. The patterns made in the sand can be circles or wavy. In a desk Zen garden kit, the patterns are made by using a mini skewer or rake. The garden kit can also have other elements like stones to create a mountain miniature, plants to represent life elements and so many more. The type of elements you will get depends on the type you buy.
Are desk Zen gardens worth it?
They will provide you with mindfulness, peacefulness, and tranquility right on your desk. Walking around in a real Zen garden would be great, but desk Zen gardens are reachable and easier to get than a real garden in the middle of a stressful day at work.
It's an easy way to clear your mind while you are at work and help you get rid of your stress.
Is desk Zen garden good for anxiety?
Yes, it is. Mini Zen gardens are good for your anxiety because they can provide you peaceful mind and increase your focus. It's like a tool to get you out of your head to create peace in the garden. Raking the sand or placing elements in the garden will help you relieve your stress and anxiety.
How much does the best ones cost?
The kits costs somewhere between $15 and $100. The price depends on the type of materials and decoration elements that come with the garden kit.
What is the best mini Zen garden to buy?
Below are 10 of the best mini Zen garden kit that you can set up and place on your desk at your office or at home.
1. Y & S Styles Japanese Zen Garden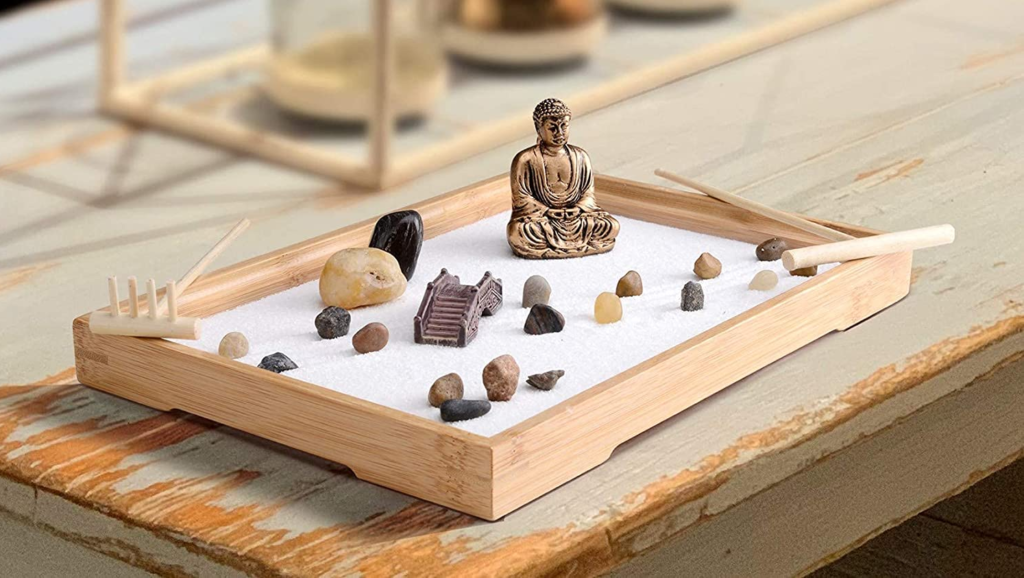 This Zen garden kit comes with a rectangular wooden frame, a fence, a gold Zen Buddha statue, a bridge for decoration, and of course a bag of white sand and 2 rakes to make the patterns. This simple kit provides you with all the tools you need to set up a beautiful Zen garden.
2. Sherhoods Japanese Zen Garden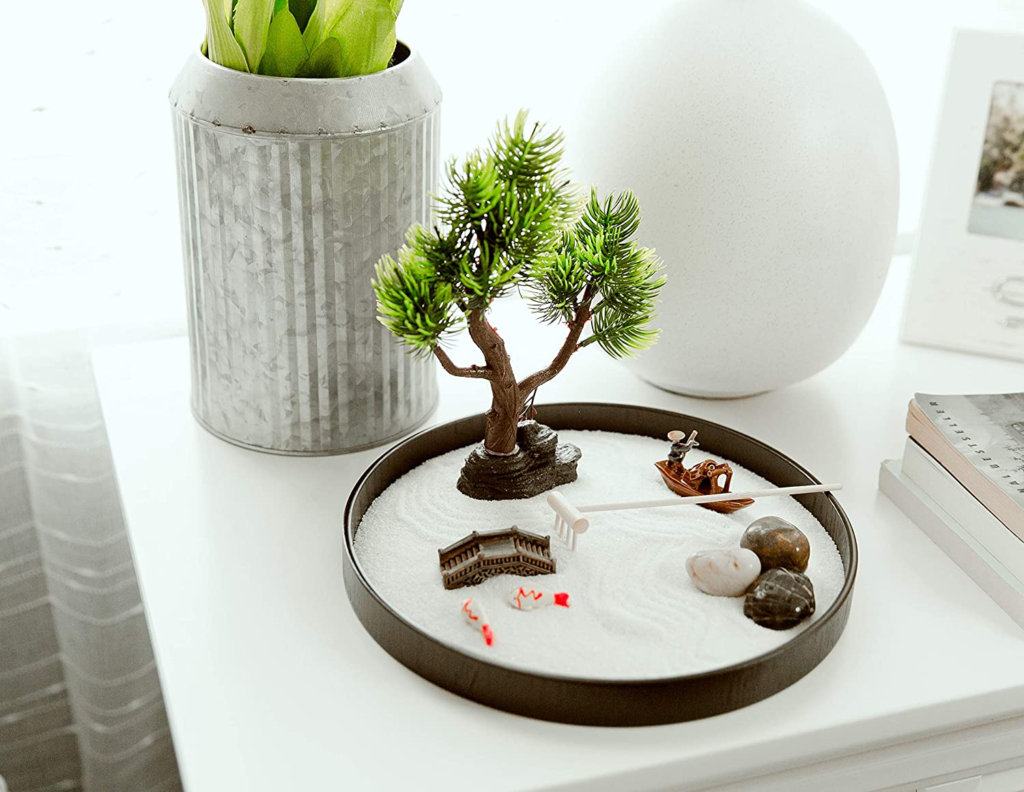 This mini Zen garden kit comes with a black round frame, a bag of white sand and the wooden rake, and also other cute elements like a tower, a boat, a bridge, and a bonsai tree. It is suitable to be placed as a decoration on your desk or your coffee table. The combination of the black base and the white sand makes it a perfect decoration for your house.
3. Mevellya Japanese Zen Garden Sand Kit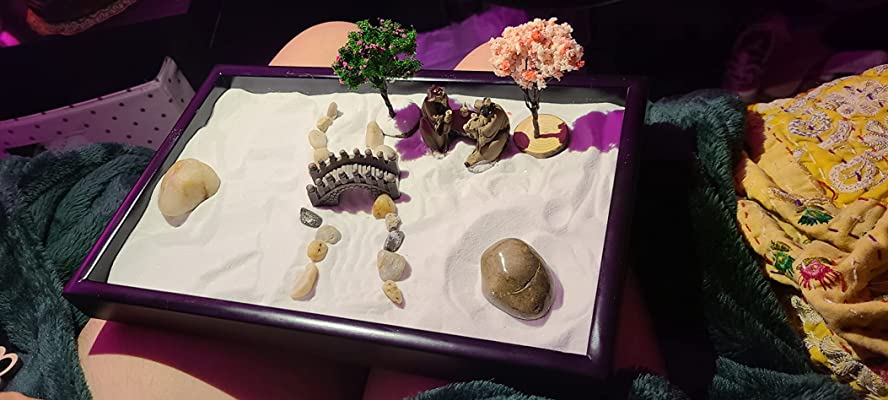 This kit comes with a rectangular wooden frame and white sand. This selection also comes with stones, a bridge, one artificial cherry blossom tree, one green tree, and two rakes. It has a perfect size to be placed on your desk at the office without making it too crowded. You can arrange and re-arrange the sand pattern with the rake and place the decorations to calm your stress at work. 
4. Island Falls Home Mini Zen Garden Kit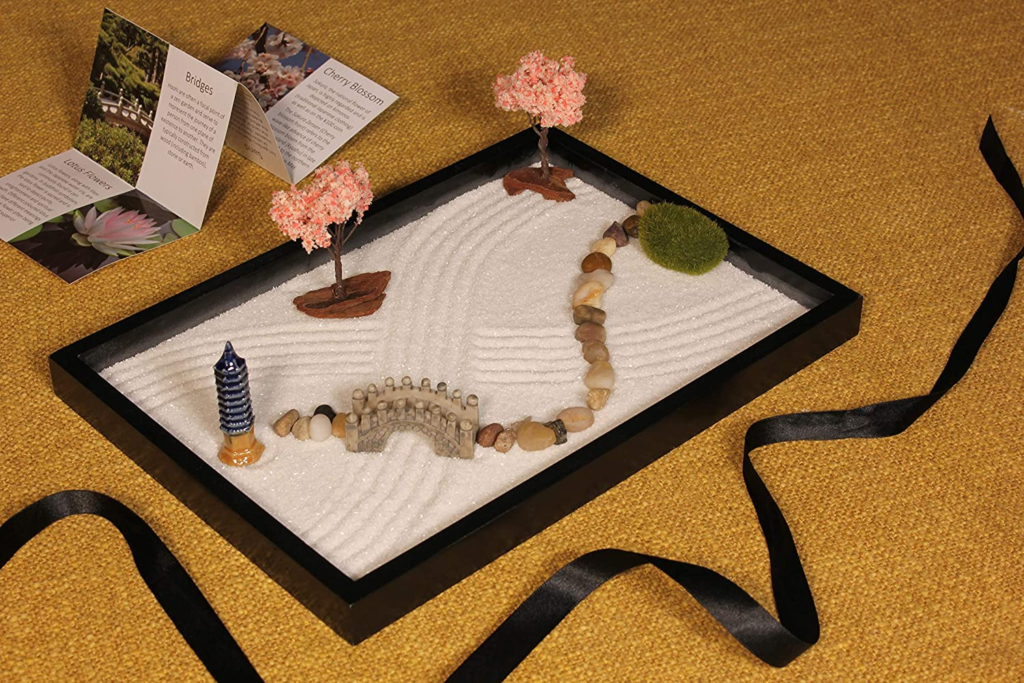 This is a beautiful choice that is perfect as a stress reliever for yourself or as a gift for someone you love. It will be an amazing decoration on your coffee table or desk. The kit comes with many decorations like cherry blossom trees, a bridge, a pagoda, lotus flowers, moss, rocks, and also 6 rakes and other tools! 
5. Mini Zen Sand Garden Kit for Meditation
The garden kit comes with the concept of simplicity. It comes with a bamboo wooden frame, white sand, rake, and other tools, and also stones and a fence. The simplicity brings all you need to help you relax and clear your mind. It also has all you need to reach calmness and help you meditate.
6. Oasis of Calm Zen Garden Kit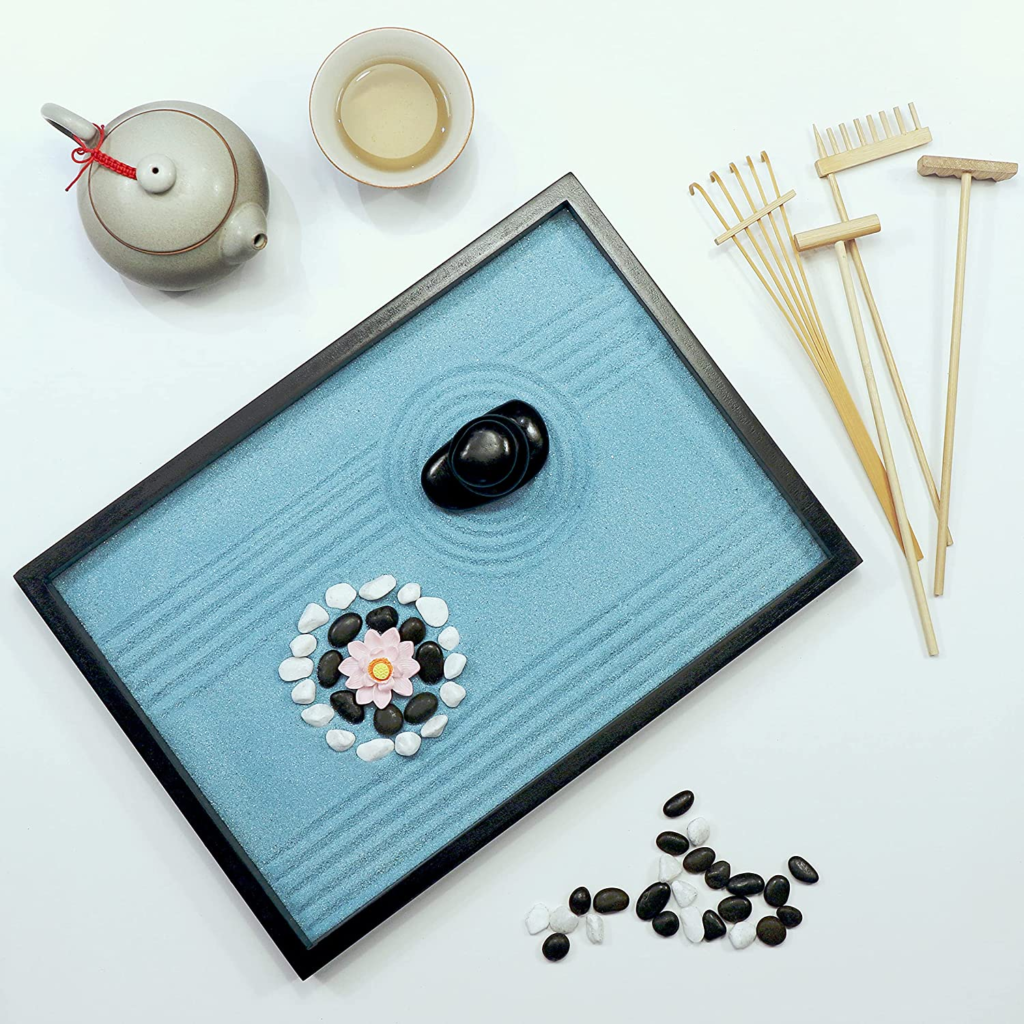 This one comes with blue sand to symbolize the ocean. It also comes with 6 types of bamboo rakes and tools for you to create patterns on the blue sand. Creating patterns on the sand will help calm your mind. It also comes with other elements to decorate the garden such as stones, lotus flowers, and pebbles. 
7. Zen Gardens with Panda for Relaxation 
This cute Zen garden kit comes with a mini panda as one of the decorations. It has a bamboo wooden frame and white sand as the base, tools like a shovel and rake, and small decorations such as a bamboo tree, pebbles, and a panda! If you love pandas, you should get this mini Zen garden kit. The mini garden has a few simple elements to provide you with wider space to rake the sand to create patterns.
8. Full on Zen Garden for Desk Kit
This mini kit comes with a black round base. The white sand provided makes it a beautiful combination. This kit also comes with special decoration elements that make it different from other kits: 2 wooden balls, an incense burner, a mini pagoda temple, an agarwood incense stick, and tools to create patterns like a sand pen and rake. Not only gives you calmness by creating waves on the sand, but it also gives you tranquility through the smell of the incense stick.
9. ActiveBliss Zen Garden for Desk
This kit comes with a black wooden frame that has 3 separate compartments. It also has an incense stick holder to provide you the option to use an incense stick while meditating. It comes with a bag of white sand, a rake, tools like a sand pen and sand brush, and also some decorations like koi fish and river rocks.
10. BangBangDa Japanese Zen Garden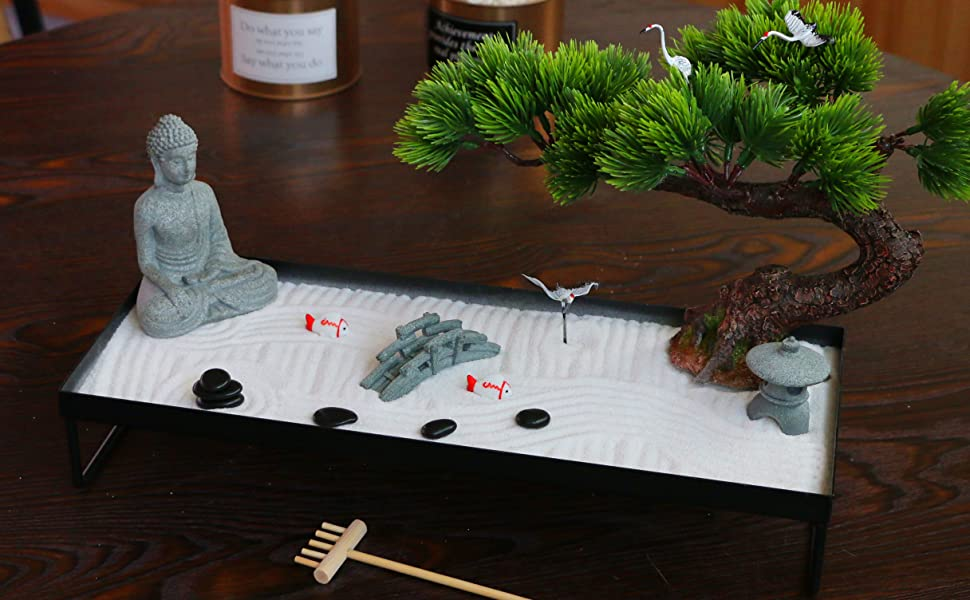 This mini Zen garden kit comes with a black wood frame and white sands. It has beautiful decorations that make it perfect as a gift, like a silver Zen Buddha statue, a bonsai tree, a white ceramic crane bird, and koi fish. It also comes with rocks and rakes to help you relax by creating patterns and placing the decorations.
Conclusion
The 10 best mini Zen garden kits listed above have the same benefit to help you reach the tranquility you need. The kits are made to provide you the most benefit by seeing them or playing with them.
Zen garden's main purpose is to assist in your meditation. They have the power to calm your mind and regulate your thoughts. They will make the best decoration for your desk or your coffee table or any space in your office or home.
Which kit makes you relax the most?